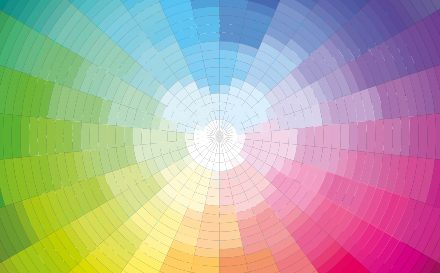 Can you connect with your customers through your company colours? When it comes to choosing your company colours there are many factors to consider. Ask yourself if they help your company stand out, whether the colours compliment each other and if they are relevant to your business. Another important factor to consider is the effect your company colours will have on your customers. Think about the emotions they will evoke.
Colour can be used as a form of non-verbal communication. Different colours can influence your customer's opinion of your business. For example, the colour blue is associated with trust, reliability and communication. It is not a coincidence that it the colour of choice for many big brands wanting to convey these messages. These brands include Facebook, Twitter, Barclays and Skype.
The psychology of colour plays an important role in evoking an emotional response from your customers. It is imperative that you consider your company colours. Choose colours that support your key brand messages when designing your print marketing materials.
You need a clear understanding of how colour psychology plays an important role when choosing your company colours. We have put together a short guide.
Guide to Choosing Company Colours
Neutral Colours
Neutral colours such as black, white and grey are very effective when used in minimal print design. Black is often associated with elegance and glamour. It is often a common choice for luxury brands such as Chanel. This is usually teamed with white space to further enhance the feeling of luxury. Grey is used by brands wanting to perceived as high quality and professional such as Apple.
Orange
Orange portrays a brand that is friendly, cheerful and confident. It is frequently used by brands that are related to having fun or enjoyment. Examples of brands that use orange include, Nickeldeon, Fanta and Firefox.
Red and Blue
Red denotes energy and excitement, examples include Coca-Cola, Red Bull and Kellogg's. The colour blue has a long association with reliability and trust. It is often a popular choice for brands in the communication, technology and finance industries.
Pink and Purple
Pink denotes warmth, femininity and sensitivity. It is a popular choice for brands that target women and young girls. Examples include Barbie, Cosmopolitan and Victoria Secret. With its regal association, purple denotes creativity and individuality. It is the colour of choice for brands such as Cadbury, Hallmark and Yahoo!.
Green and Yellow
It may come as no surprise that green is used to evoke feelings of growth, vitality and being eco-friendly. Many brands choose green to help them position themselves as an environmentally friendly brand. Examples of brands using green are Starbucks and The Body Shop.
Yellow denotes youth, friendliness, happiness and optimism. Examples of brands using yellow include McDonald's, Subway and Snapchat.
Lemon Press are Litho & Digital Print Specialists
Lemon Press has a 3,000 sq.m print production facility in Redditch. We can print high quality brochures, catalogues, posters and leaflets on a variety of print mediums. If you would like to discuss your print marketing get in touch on 01527 510262 or email info@nulllemonpress.co.uk