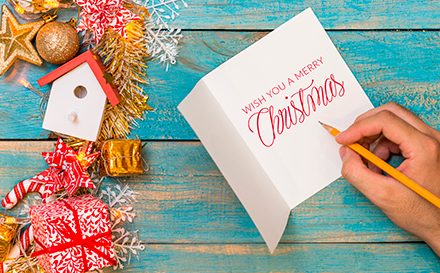 There are many reasons why your business should send branded Christmas cards. You may already send Christmas cards to your customers, but have you considered sending branded Christmas cards? Printed branded Christmas cards are a great way to reach your customers. Not only does it show you value them as a customer. It is also a great way to help your business stand out from the competition.
Many businesses will send out electronic branded Christmas cards via email. But these can be overlooked in crowded inboxes and cannot replicate the personal touch of a printed card coming through the door. Another great benefit of branded Christmas cards is the potential for them to be displayed and seen by more than just the recipient.
To get the most from your branded Christmas cards make sure they are well designed. Communicate key messages and send them early to maximise potential exposure. Here are four reasons your business should consider sending branded Christmas cards this year.
Strengthen customer relationships
It may seem like a simple gesture, but sending your customers a printed branded Christmas card demonstrates you value your relationship with them. it is a gesture your customers will remember long after Christmas.
Customers will view your card as a symbol of gratitude, respect, and kindness – all of which will have a positive impact on the reputation of your business and your brand.
Raise awareness and increase sales
As we mentioned earlier, a printed card has the benefit of being displayed and therefore seen by much more people than just the recipient. This increases awareness.
This increased awareness across your entire customer base will not only keep your business top of mind it could also lead to an increase in sales. Particularly in the run-up to Christmas and during New Year.
Christmas cards – Make it personal
Firstly, a printed card is far more personal than sending an email. Make it even more personal by including an offer such as 10% off to thank them for their custom throughout 2017. This will not only further reinforce how much you value them, it will also entice them to make a purchase.
You may want to consider adding your offer to a voucher inserted into the card. Make the voucher unique to the customer by using Variable Data Printing to customise the offer. The value, and target the individual depending on their gender, their order history or any other marketing information that you may have to make the voucher a truly personal gift.
Drive brand awareness and loyalty
Sending customers a branded Christmas card will help drive brand awareness and increase brand loyalty. Use designs that reinforce your brand, making sure you use your brand colours and logo. Whether you choose one design or multiple designs they should all reflect your brand. Christmas cards can also be a great way to reconnect with past customers to remind them you are still here.
About Lemon Press
We print all kinds of work, including stationery, leaflets, brochures, folders, and catalogues. Lemon Press work with many of the leading creative agencies and a variety of different businesses. We offer high-quality digital printing and lithographic printing from our Redditch premises.
We have been printers for over 25 years. Our company is based in Redditch, near Birmingham. If you want to find out more about our printing services contact us on 01527 510262 or email info@nulllemonpress.co.uk