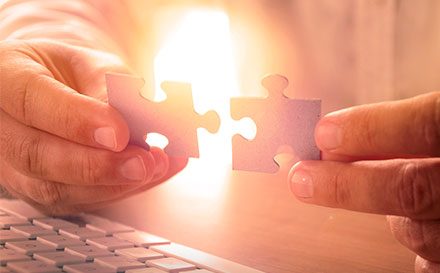 How to combine social media into your print marketing campaign
If you are running a successful print marketing campaign you may not be aware that you could use this success to increase your social media presence and engage your audience on digital channels as well as through your printed materials.
There are a number of ways you can integrate your social media into your print marketing campaign, allowing you to communicate directly with your customers online and offline. Let's take a look at the ways you can combine your social media into your print marketing campaign.
Offline follow buttons and URLs
It is often thought that the follow button or URLs are for the digital world only, but they can also be very effective when included on your printed marketing materials, such as business cards, direct mailers, leaflets, posters and catalogues.
More and more we are seeing follow buttons and website addresses everywhere offline, while they cannot be clicked (although a QR code could be used) and direct the recipient to the desired destination it does make them aware that your business has a Facebook page or a website they can visit to find out more about you and the products or services you offer.
Social feedback
Taking snippets from feedback or reviews you have received via your social media channels and including them in your printed marketing materials is a great way demonstrate the positive feedback you receive, can help to build trust in your brand and highlights your social media presence.
Integrating your social feedback into your print campaign can also be highly engaging and therefore is likely to yield better results. This works particularly well for posters or leaflets which can also include your offline follow buttons and URL.
Be interactive
QR codes can be a creative way to make your print marketing materials interactive, QR codes are a quick and easy way to take recipients directly to your website or social media channels via their smartphone.
Add personalisation to your QR codes with PURLs, a PURL is a unique and personalised landing page created especially for each recipient of your direct mail marketing campaign. Personalisation is the future of marketing and we are seeing more and more big brands include personalisation into their campaigns, such as Coca-Cola, Nutella and Marmite.
Track and target
Both your printed and digital marketing campaigns will provide you with invaluable data on how your online and offline audiences respond to your messages, use this information to help you target your marketing campaigns more accurately by monitoring what users are sharing and liking on social media and how people are responding to your direct mail.
Whatever your print requirements, the Lemon Press can promise the same high levels of attention and professional care for every job placed with us. Get in touch on 01527 510262 or email info@nulllemonpress.co.uk