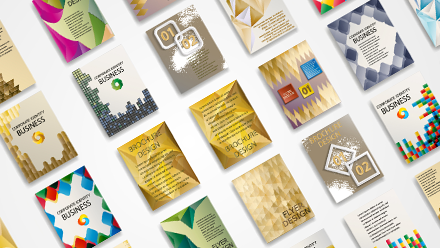 Get the Most from your Leaflets by following our handy guide. In today's digital world, it can be easy to overlook printed materials and all too easy to forget just how powerful printed leaflets can be. Leaflets are a hugely effective, cost effective way of communicating your message to your potential customers and they can work perfectly alongside both your online and offline marketing.
Of course, you're not alone in using printed leaflets to promote your business, but there are a number of ways to get your promotional material in front of and noticed by prospective customers.
Events
Whether you are attending or even hosting an event, make sure you have plenty of leaflets along with to give to prospective customers. Get creative with your leaflet design to make sure your promotional material is at the front of the minds of your potential customers. People will take leaflets away and refer back to them later. That puts your business in prospective customers' minds days or even weeks after the event.
Packaging
Including leaflets in your packaging provides a great opportunity to up sell to existing customers. If you're sending out products or information, include a leaflet in the package. The more you can tailor this information to the customers shopping habits the greater the chance they are likely to be interested in the products and more likely to purchase them.
Door to Door Leafleting
Distributing leaflets through the doors of potential customers is a great way to raise awareness of a local company and to get in front of large numbers of prospective customers. While online mail might end up in the spam folder, printed leaflets are sure to be seen. Avoid going straight in the dustbin with a creative design and strong message.
Price lists and menus
Whatever your business, your customers will appreciate a printed list of prices or services, meaning they don't have to call or check online for the information they need. They'll keep your leaflet and refer back to it, making it a permanent marketing tool which again, encourages customer loyalty.
Get the most from your leaflet
Make sure your leaflet is easy for customers to read, think about font size and typography when designing your leaflet.  Use clear, well written content that communicates your key messages. Think about your paper too. We print on a huge range of papers, from a high quality standard paper, to a range of luxury papers and finishes.
Whatever your print requirements, the Lemon Press can promise the same high levels of attention and professional care for every job placed with us. Get in touch on 01527 510262 or email info@nulllemonpress.co.uk