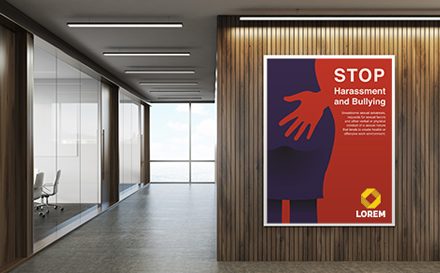 Posters can be one of the most effective forms of communication for your business owing to their eye-catching nature. Being larger than other types of printed marketing materials, such as leaflets or brochures, helps them to stand out and capture the attention of potential customers. A well designed and well positioned poster can be one of the most effective forms of print marketing your business could use.
Posters are extremely versatile and can have many different uses, whether you are looking at attracting attention to your exhibition stand, trying to attract potential customers or raise awareness of your business, poster marketing can be highly effective. They can be used to convey a number of messages, let's take a look at 3 of the more creative ways posters can be used as part of your print marketing campaign.
Posters promoting special offers or events
Using posters to raise awareness of upcoming special offers or promotional events can yield great results. Posters promoting your special offers and promotional events can be placed within your business premises to alert existing customers to them and can also be placed externally in public places such as town centres and bus stops to create awareness among potential customers.
It is imperative to ensure your poster is well designed, eye catching and easy to understand. When it comes to promoting special offers and promotions via posters it is good practice to make sure your message is clear, concise and can be read and understood within a few seconds to ensure it makes the maximum impact. It is important to consider the imagery you use in your poster design, you want to make sure it is relevant, on brand and engaging.
Awareness of changes to your business
While typically used for promotional purposes, posters are also an effective way of communicating changes to your business to your existing and potential customers. If you are making changes to your opening hours, adding new products or services or are moving premises it is important you tell your customers. Posters can help you reach your customers and convey the changes to your business efficiently.
Placing a poster within your business premises in a place that will be seen by all customers, such as the entrance or reception area will ensure it is seen. They are a great method of communicating changes to your business to your customers and offer a large enough space to be able to convey all the information you need to.
Improving workplace safety
You may not have considered using posters to help improve workplace safety and good practices amongst your employees. Posters can be placed in areas around your workplace to remind employees of workplace safety procedures and good practice procedures.
One of the main benefits of using posters in this way is that your employees will see them daily and they will serve as a gentle reminder to follow workplace procedures. You could also use them to remind customers of potential hazards, such as mind the step or in customer bathrooms to remind customers to wash their hands.
These are just three creative ways you could incorporate posters into your print marketing campaign and within your workplace. Posters can be used in a variety of ways and are one of the most effective forms of print marketing.
Lemon Press has a 3,000 sq.m print production facility in Redditch. We can print high quality posters on a variety for print mediums. All are printed in full colour with either single sided or double-sided option. If you would like to discuss your print marketing get in touch on 01527 510262 or email info@nulllemonpress.co.uk