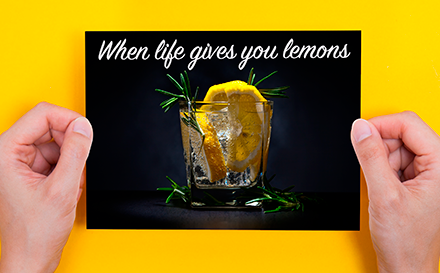 Postcard Marketing is a great tool when it comes to marketing your business. You may already be making the most of direct mail marketing. You may not be aware of postcard marketing and why you should be using it to promote your business.
When you first think of postcards you probably think of holidays. While by no means a new concept, postcard marketing can be a powerful and successful method of marketing. It can be used to align your digital marketing with your print marketing. Let's take a look at some of the benefits of postcard marketing:
Postcard Marketing is Instantly Visible
The main benefit of postcard marketing is recipients will see your message as soon as your postcard arrives. Without having to open an envelope, the recipient is likely to read your postcard. They can decide whether they are interested – instead of just going straight in the bin. Good postcard marketing design includes strong branding, visuals and typography. This is all designed to attract the recipient's attention. You need to make them want to read your marketing message.
Postcards are great for Short & Sweet Messages
While some business owners may feel that postcards are too small to convey their message, this is also one of the great things about postcard marketing. You need to get creative with your content. Create short, sharp messages that are easily digested. You need to spark the recipient's interest. Printed marketing materials that are text heavy can be unappealing and less engaging.
Think about ways to include information about your website and social media pages. QR codes are still an effective way of driving people to your website from your printed marketing materials.
Postcards Remain Intact
Postcards generally tend to be printed on stronger materials such as card. This makes them more resilient to the weather and poor handling. For example, if leaflets are printed on low quality paper they could potentially suffer weather and tear damage from poor handling. You want to avoid giving a feeling of low quality or lack of professionalism to your potential customers.
Postcards Act as Reminders
Depending on your business and the products and services you offer, postcards can be used to distribute useful information like event dates, process guides or important contacts. If your postcard contains useful information, recipients are more likely to keep it. They may even pin it to a board or on the fridge to act as a reminder or so that the information is easy to find when needed. You could even make the card a ticket or discount to be redeemed in store.
If you have any queries about postcard marketing, or would like to discuss your next print project, call Lemon Press on 01527 510262 or email info@nulllemonpress.co.uk